Open the doors to the future
Octorate is the easy-to-use All-in-One solution that supports you intuitively with the management, improvement and automation of the processes related to your accommodation.
Within our Suite, you will be able to select the perfect solution for your business, between Hotel Division, dedicated to the hotel industry, and Vacation Rental: the management software for vacation homes dedicated to agencies, property managers, and owners.
Profitable online property exposure, effective price strategy, professional income management, bureaucratic and fiscal duties fulfillment, guest communication management before, during and after their stay: Octorate takes care of everything.
You only need to bring your talent.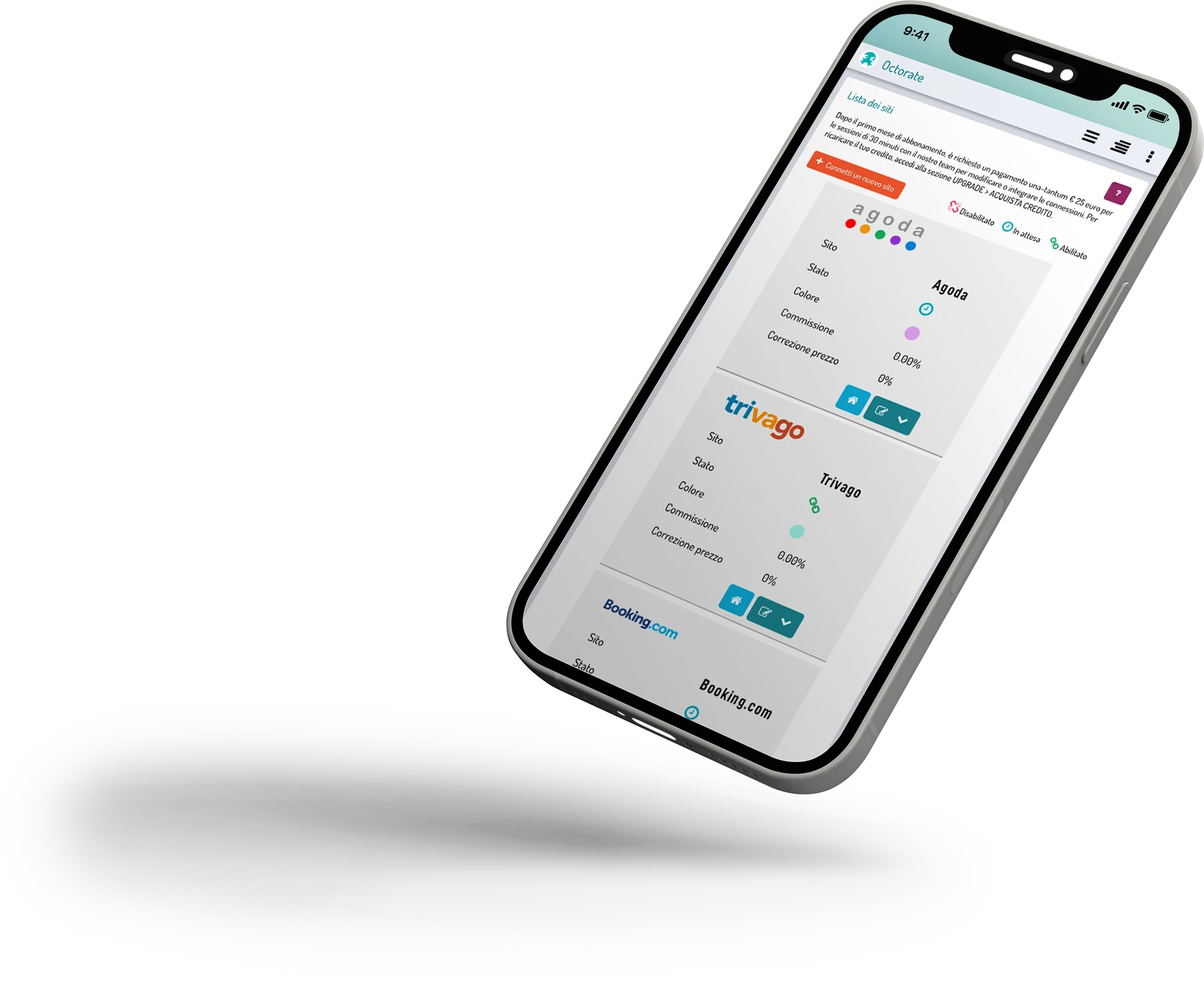 The OTA's preferred connectivity partners
⭐️ ⭐️ ⭐️ ⭐️ ⭐
I selected Octorate based on extensive research. Whilst I hadn't heard of Octorate before they are competing with so of the market leaders and based on our needed (circa 100 properties) are the leaders in our eyes.
The team are friendly and helpful and I find them flexible with dealing with out needs and have found ways to get the system to do what we need through the development team. Support is quick and helpful and if there isn't a simple answer they will work with their team to find the answer.
So far there hasn't been anything they haven't been able to resolve or get the system to do.
I honestly believe that Octorate is the best value for money available.
⭐️ ⭐️ ⭐️ ⭐️ ⭐
If anyone is looking for a great partner to work with Hostels, small Hotels, B&B´s,.. Octorate is definitely the best option in the market right now. It is a cloud base system with a very easy interface to use, learn and teach your staff. It´s secure and most importantly, reliable.
One of the things that I want to point out is their quickness to adapt to new changes in the market. A great development team behind it, is very important.
I have personally worked with other channel managers and property management systems in the past and I have to say that I am very happy to have found this team and trusted my business to them.
⭐️ ⭐️ ⭐️ ⭐️ ⭐
I'm an hotel manager and I run dozens of apartments this platform (Octorate Suite) shines for speedness, stability, customer service (Lorenzo top star), innovation.
It's really a nice and proactive system which I recommend to anyone!
Michele / hotel manager Palazzo Vitturi Venice Boutique Hotel and owner of Michelle in Venice italy